Fundamentals of PDR Training
The Fundamentals of Paintless Dent Repair Class is the basis for a successful PDR career. Students learn the foundation of paintless dent repair during this core class. They are able to produce professional repairs upon completing training.
Developing The "Feel"
We use a state-of-the-art PDR training platform. This imposes consistency in the training process to properly develop the "FEEL" of PDR. We use a consistent metal though out the training period to consistently develop a baseline "FEEL" for the tools. The training is structured so that the student starts in the training environment practicing on test panels and transitions to real automotive panels during training.
Learn-Do-Perfect System
Our progressive learning system to rapidly advance student skills. The goal is to make a repair that is "Clean & Unseen". In oder to achieve this level of quality with in the training environment, the learn-do-perfect system connects the head knowledge to muscle memory to train the body to perform perfect repairs. By using this system, the proper physical coordination is achieved. This system leads to proper professional repairs necessary in the real world environment.
Aspects Of Paintless Dent Repair
We focus on the four aspects of PDR during training: Theory, Technique, Tools, and Access. Through class room instruction and practical application, students learn decision making skills to apply all aspects to any given paintless dent repair situation. We are unique in teaching these aspects in combination to complete difficult dent repairs.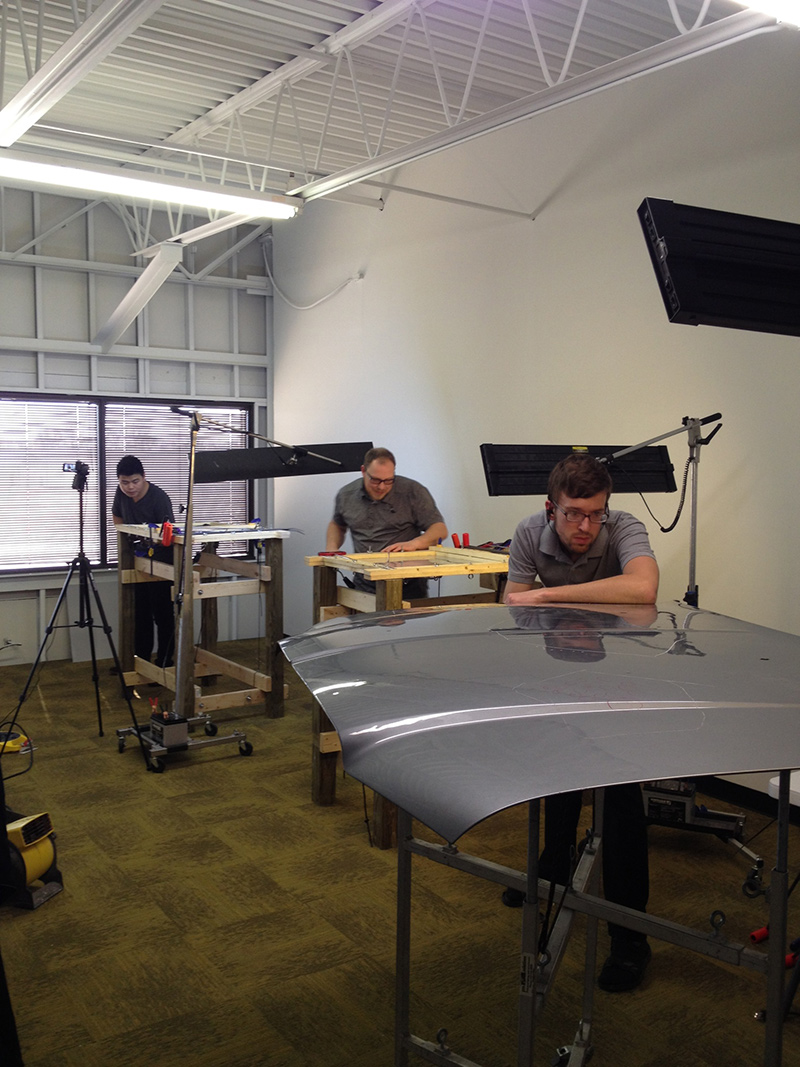 Theory: Paintess dent repair theory is the knowledge of how the paintless dent repairs are performed. The history and current paintless dent repair theory are exhaustively taught throughout the courses.
Technique: Paintless dent repair techniques and skills are application of theory using body movements to remove dents. All aspects of skill development will be trained and performed through extensive practice. Quality hands-on over the shoulder coaching is the best way to achieve proper skills development.
Tools: Usage of paintless dent repair tools are what we use to remove damage with our skills. Instruction on what tools to use for every situation is imperative. Tools manufacturers pros/ coms and use of their tools are demonstrated throughout the course. Tools from all reputable paintless dent repair tool manufacturers are used by students in class.
Access: How to get to the damage to repair dents can be the most challenging aspect of paintless dent repair. Extensive instruction along with practical experience on real vehicles are part of the Fundamental of Paintless Dent Repair Class.
Free Online PDR Training Preparation Course!