Paintless Dent Repair FAQ/Blog
If you're interested in becoming successful as a paintless dent repair tech, Rob McDowell has the experience to guide you to success.
These are the common questions about paintless dent repair process, paintless dent repair training, and specifics about the Paintless Dent Repair University training offerings.
Paintless Dent Repair Training Costs?
The cost of get started depends on the quality level of training, tools, travel expenses. There is not an industry standard paintless dent repair training cost. It really depends on what you want to achieve with paintless dent repair skills and how fast you desire to achieve a certain skill level. The adage "You get what you pay for." is very appropriate for learning paintless dent repair. A more detailed explanation is outlined in the PDR Professor's blog post "how to chose dent repair training." The factors you need to consider are:
High Quality PDR Industry Respected Trainer
PDR Industry Manufactured Quality Dent Repair Tools
Travel Expenses
Hotel/Meal Expenses
Is PDR Difficult To Learn?
Yes, because paintless dent repair is a high end craft that takes time and effort to perfect. it takes determination to invest the time and perseverance to become a master at this art form. But, Anyone can learn paintless dent repair!
Who Can Learn & Become A PDR Professional?
Anyone! Over the years we have seen men and women from all ages and backgrounds. The oldest PDR professional we know is a 70-year-old gentleman with no intentions of retiring anytime soon! The deciding factors are:
Correctable Eyesight
Physically Fit and Good Flexibility.
A Persevering and Determinative Attitude
Willing To Follow Instruction
DVD Or Video PDR Training?
DVD or Video Training is fine for a supplement to Hands-On training but is not a substitute. Due to this medium being two dimensional, it has limitations. It will take much longer to become a professional due to the lengthy time and learning curve of this avenue of instruction.
What Is A "Training Mill"?
A training mill is a training organization that instructs the masses. Like the superstore concept, they usually charge the lowest prices and have largest selection of reconditioning courses offered. But that method has its drawbacks. They do not use industry experts, the hands-on training is limited, students are just a number or product, and after class support is limited or non-existent. The failure rate is very high and few students become industry professionals.
Why Is Certified Paintless Dent Repair University Different?
We are different in the following aspects:
We are a paintless dent repair industry respected school.
Limited Class Size (4 Students Maximum)
Hands-On Mentor Directed Learning Environment
Cutting edge paintless dent repair industry techniques
Included After Training Alumni Care Program
How Long Are The Courses?
Each Course is 1 Week.
Where Are The Classes Located?
Classes and testing are conducted in our state of the art facility near Louisville, Kentucky. We prefer our facility to keep the training environment controlled to enhance learning. At times, we will train on location for individuals or groups. The pricing is customized and call 502-345-0708 for a quote.
What If I Need More Training?
As an alumni benefit, the student is entitled to lifetime refresher training free of charge. As space is available, the student is welcome to attend as often as desired. We are committed to our students learning and developing the art of paintless dent repair.
Is There Any Sort Of Certification?
Paintless Dent Repair University offers Technician Level paintless dent repair certification awarded at the completion of class. We offer free certification upgrade testing once a year. Details can be requested with certification standards and achievement levels.
How Many People In A Paintless Dent Repair Class?
4 students maximum. We like to keep the student to instructor ratio small to maximize the instructor/student interaction.
Paintless Dent Repair Blog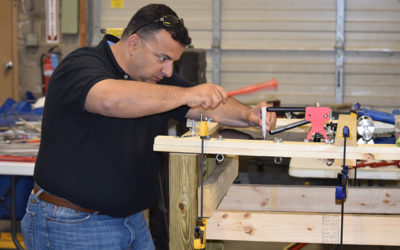 Sneaky PDR Training Sales Tactics Beware is alive and well today! I had to deal with these tactics when I learned paintless dent repair back in the 199s. So, as I expose these tactics, just keep in...
Free Online PDR Training Preparation Course!